Eskimo Village
Snow shoeing, fondue dinner, cosy sleeping bags, candle lit rooms and a mountain top location. Join us in Slovenia's only Igloo Village a real Winter in Slovenia experience!
Our Eskimo Village and Igloo Hotel comes to life in the winter months on Krvavec Mountain. Slovenia's first and only Igloo Village opens in December and lasts until late spring. If the idea of a gondola ride to over 1500m and a snow shoe experience is for you then come and join us in the Igloo Village.
With it's mountain location, bar, sauna plus a choice of group or double rooms available, our Igloo Village is something to remember. After a 30min snow shoe experience you'll reach the Quiet Valley and our Igloo pods. A welcome drink and fondue dinner ensures a unique winter experience.
Cozy sleeping bags and insulated mattresses are the perfect combination for an overnight stay. For a group or party we can provide traditional music or a disco to ensure the perfect party atmosphere. Our Igloo is also bookable as a private group venue for birthday's, stag and hen parties, we'll provide tubing on the slopes, plus snow games for an enjoyable evening.
How we build our Eskimo Village and Igloo hotel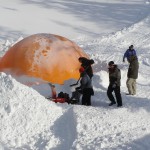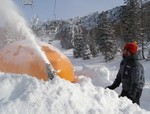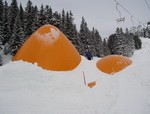 Contact us for further details on Slovenia's
only Eskimo Village and Igloo Hotel